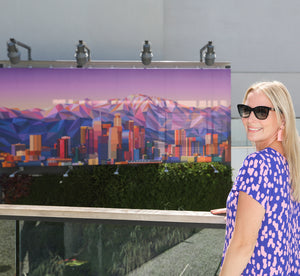 The Artist Mentorship Program is ideal for emerging or mid level artists who are looking to launch their career and turn their side hobby into a full time business. By joining the Artist Mentorship Program you will be one step closer to achieving your goals and making art your full time business!
This is the personalized career coaching that I wish I had 10 years ago when I wanted to launch my own art business. I delayed turning my painting and illustration practice into a full on career because I had too many unanswered questions and was too scared to take the leap of faith. I will provide you with enough tools and tips to make your transition into becoming a professional artist a smooth process.
Why make me your Art Coach? My background working as an Art Director for creative agencies has helped provide a business minded perspective that has kept my art career growing year over year. I am represented by Contemporary Art Galleries across North America, have art on buildings in Canada and billboards in Los Angeles and have worked with notable businesses including TED, Westfield, the Ronald McDonald House and lululemon to name a few. I cannot wait to be your art coach and help you launch your art career.
This Program Includes:
- 4 One on One calls with Elyse
- Goal setting and envisioning exercises
- Portfolio, Social Media and Website Consulting 
- Creating a brand that attracts your ideal clients 
- Email Templates for pitching your work
- Tips on how to price your work 
- Beneficial Art Resources
Timeline and Pricing:
This is a 4 month long mentorship program at $499 / month but it can also be condensed into 4 week rocket launch program for $1,999. If you want to continue the art coaching past the initial mentorship program you will receive a loyalty price of $399 a session going forward. 
It is time to invest into yourself and turn your art goals into a reality! Email hola@elysedodge.com if you have any questions before we begin.