Shop Prints, Paintings + Products
About Elyse
L.A.-based Canadian artist Elyse Dodge is best known for her boldly coloured geometric landscapes. Her distinctive visual language explores the contrast between the abstract and literal, in both form and colour.
Elyse blends the freedom of impressionism with the precision of geometric abstraction - presenting memories of place in a surreal, dreamlike state that draw the viewer into an alternate, simplified world.    

Raised in British Columbia, her artist mother and builder father taught her to see the world as form and colour. Elyse now applies that deconstructed perspective to her work, creating fresh and unexpected contemporary landscapes.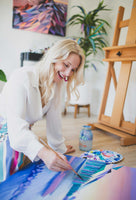 Customer Testimonials
Elyse's perspective on the sites we know and love are unique and compelling. Whether it's watching the process she follows on her Instagram stories, to seeing the piece I purchased in my hands and up on the wall, I feel so engaged by it every step of the way. I would highly recommend her pieces, whether it be one in her current suite, or commissioning a piece. She is highly professional, helpful and her skill is undisputed.

Hannah Beckett
When I reached out to Elyse, I was over a year deep into planning and building a conversion van. That is when I saw Elyse's design on a pair of J's skis I was shopping for. I thought there was no way she would agree to doing a wrap for the van let alone do it within the small time frame we had before picking it up. She told me to give her a call, made me feel super comfortable about the process and began to work immediately. She provided a rough proposal a few days after our phone call and sold me and my wife 100%. I was blown away with her work and the quick service was icing on the cake!

Jacob Huffman
Elyse went above and beyond for our custom painting. She checked in early, integrated my feedback using creative solutions, and communicated regularly. When deciding on the color palette, I sent her photos of our home in Topanga. She used them to pick out the perfect shades from the stones in our fireplace as well as the nature we see from our windows... Elyse took attention to detail to the next level, and created a more gorgeous piece of art than I ever could have imagined. This piece is so special, and my family and I will cherish it forever.

Bianca Elliot